well, i guess knoxville must be in the geographic center of 'what's going on', cause once again we got some tripawds visitors at our house.  maybe we just live close to texas, these folks were from texas just like fortis' dad, so maybe that's the charm.  whatever it is, we had a fabulous visit with shanna and bob…and of course spirit trouble was with them too. 
at first i was a little scared, meeting new people is not always my strong suit…but it didn't take long to figure out that bob was my kind of guy..he can really handle a treat jar!!!  he took great care of me and brother sam during the trip!!  and miss shanna, well, she just couldn't stop loving on me and talking about how big i was and how good i looked.  they brought us lots of prizes and treats from texas…the trouble mug really seemed to touch charon's heart.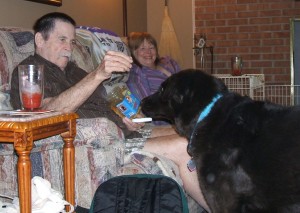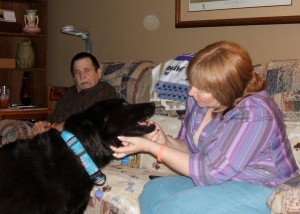 wish they could have stayed with us longer, but hopefully they can swing by again – such a great visit and so many wonderful stories about spirit trouble and duke and sister jane and all of us.  like we'd all known each other forever.  geesh, who's gonna come see me next????