well, it seemed so empty around here without our jane…waiting for her to come back, and yet knowing she wouldn't.  so, in an effort to help me find some new excitement in my life, it seems we've decided to increase our family again.  charon went to a rescue event at the petsmart…thinking of looking at a young pup (wow was he short), but somehow, she was led to sam.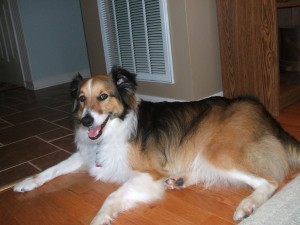 sam is about three years old, and they think he's a sheltie/border collie mix.  sam is very handsome, and really understands that i need extra time and space sometimes and that i am the 'number one' (that's the best part).  there are a few times when i've gotten tired of his barking and such, but a short growl seems to put him in his place which is perfect.  he especially loves to be outside, chasing squirrels and birds, which i think is goofy, but maybe it's a guy thing.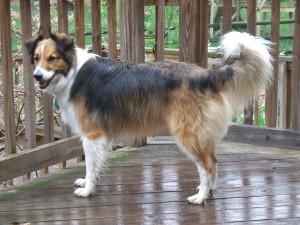 so, after test driving him for a few days, i agreed that he could stay, as long as he never forgets that i'm number one, and of course that charon & i are inseparable.  he gets it.